FCP Specifications
Specifications | Warranties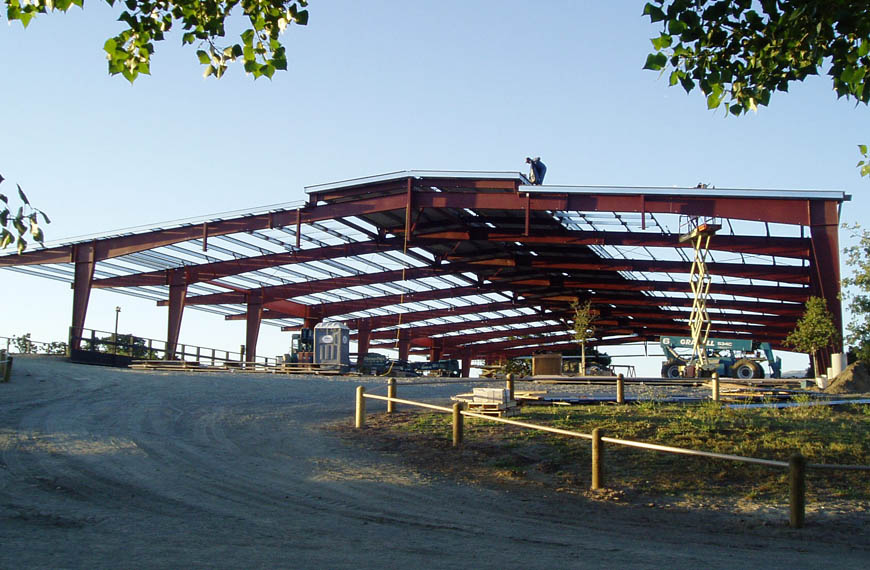 FCP Specifications & Warranty Information
REFERENCES – General: Versions of the following standards current as of the issue date of the project or required by applicable code apply to the Work of this Section.
American Institute of Steel Construction (AISC):
AISC 360 – Specification for Structural Steel Buildings.
American Iron and Steel Institute (AISI):
AISI S100 – North American Specification for the Design of Cold-Formed Steel Structural Members.
AISI S400 – North American Standard for Seismic Design of Cold-Formed Steel Structural Systems.
ANSI/MH28.3 Design, Testing and Utilization of Industrial Steel Work Platforms:
American Society of Civil Engineers (ANSI/ASCE):
ASCE/SEI 7 – Minimum Design Loads for Buildings and Other Structures.
ASTM International (ASTM):
ASTM A36/A36M – Standard Specification for Carbon Structural Steel.
ASTM A307 – Standard Specification for Carbon Steel Bolts, Studs and Threaded Rod 60,000 PSI Tensile Strength.
ASTM A500/A500M – Standard Specification for Cold-Formed Welded and Seamless Carbon Steel Structural Tubing in Rounds and Shapes.
ASTM A572 – Standard Specification for High-Strength Low-Alloy Columbium-Vanadium steels of Structural Quality
ASTM A653/A653M – Standard Specification for Steel Sheet, Zinc-Coated (Galvanized) or Zinc-Iron Alloy-Coated (Galvannealed) by the Hot Dip Process.
ASTM A1011/A1011M – Standard Specification for Steel, Sheet and Strip, Hot-Rolled, Carbon, Structural, High-Strength Low-Alloy, High-Strength Low-Alloy with Improved Formability, and Ultra-High Strength.
American Welding Society (AWS)
AWS Dl.1/Dl.lM – Structural Welding Code.
International Building Code (IBC):
Section 505 Mezzanines and Equipment Platforms
National Association of Metal Manufacturers (NMMM).
NMMM MBG 531, "Metal Bar Grating Manual for Steel, Stainless Steel, and Aluminum Gratings and Stair Treads."
National Ornamental & Miscellaneous Metals Association (NOMMA)
NOMMA "Voluntary Joint Finish Standards"
Occupational Health and Safety Association (OSHA), U.S. Department of Labor:
Part 1910 Occupational Safety and Health Standards.
Subpart D Walking-Working Surfaces.
Standard 1910.21 Scopes and Definitions.
Standard 1910.25 Stairways.
Standard 1910.29 Fall Protection Systems and Falling Object Protection – Criteria and Practices
Part 1926 Safety and Health Regulations for Construction.
Subpart M Fall Protection.
Standard 1926.502 Fall Protection Systems Criteria and Practice.
SAE International:
Mechanical and Material Requirements for Externally Threaded Fasteners J429 201405.
US Green Building Coalition (USGBC).
REGULATORY REQUIREMENTS – Comply with requirements of authorities having jurisdiction for the design, installation, and use of fabricated mezzanines, including but not limited to:
Facility Safety Requirements: Comply with referenced OSHA requirements for stairs and
fall protection systems.
The following requirements are based on IBC requirements for mezzanine construction – Requirements of authorities having jurisdiction for:

a. Building fire area calculations.
b. Means of egress based on the allowable occupancy of the mezzanine.
FCP Free-Space Mezzanines™, Support Platforms, and Canopies utilize structural square tube columns to save space while creating superior rigidity. All components are designed to facilitate ease of installation.
The high-tensile steel framing members and our unique rigid-frame moment connections allow greater spans and the ability to meet Seismic Zone 4 requirements.
Framing systems are designed and engineered in accordance with ANSI, AISC, and ASCE specifications to meet or exceed the required codes, be it the Uniform Building Code, the California Building Code, the International Building Code, or other applicable standards such as BOCA, SBC, ADA, and OSHA.
Our plans and engineering documents are produced for submittal to your local building department, stamped by a licensed Structural Engineer in the State in which the project is located.
Tired of the delays in securing building permits?
FCP continues to distinguish itself as the leader of steel structure technology with ConnectRite™, our new seismic force-resisting moment connection. A key feature of FCP Free-Space Mezzanines™, ConnectRite™ is the first moment-resistant, bi-directional rigid frame to be approved by the American Module Iron and Steel Institute (AISI). Excelling in areas with stringent seismic requirements, ConnectRite™ is now a recognized standard of AISI (AISI S-110), the International Building Code (IBC), the California Building Code (CBC), and the American Society of Professional Engineering (ASPE).
ConnectRite™ underwent rigorous testing by the esteemed Department of Structural Engineering at UCSD, surpassing expectations and creating a benchmark for joining cold-formed steel elements in a bolted—rather than welded—moment frame. A decade in the making, ConnectRite™ allows you to take advantage of light-gauge steel that's more cost-effective and environmentally friendly than structural steel.
With a high degree of ductility and our renowned durability, your FCP structure is more than a smart investment—it's a step forward in the exciting revolution of structural engineering.
FCP, Inc.
LIMITED WARRANTY
FREE SPACE MEZZANINES
FCP, INC WARRANTS TO THE ORIGINAL PURCHASER ONLY (BUYER) AGAINST FAILURE DUE TO DEFECTIVE MATERIAL OR WORKMANSHIP FOR A PERIOD OF ONE YEAR FROM THE EFFECTIVE DATE SUBJECT TO THE TERMS, CONDITIONS, AND EXCLUSIONS SET FORTH HEREIN:
Terms, Conditions, and Exclusions
I. This warranty is in lieu of all other warranties (save and except any written warranties issued by FCP and signed by an officer) whether express, implied, or statutory, and all other liabilities (contract, tort, or otherwise, including negligence) and FCP makes no warranty of merchantability or of fitness for any particular purpose. This warranty will automatically terminate and become void upon the sale, transfer or conveyance (except to secure debt) of the products or building or property on which the products are erected. In consideration of the sale of the products and this warranty, FCP shall not be responsible or liable for any consequential, incidental, or special damages, expenses, loss to the building, or loss of the use thereof, either in contract, negligence, or tort, arising out of any failure of the products, breach of warranty or for other cause. FCP does not make any warranty or assume any obligation with respect to the validity of any patents, designs, copyrights or trademarks which may cover such products. The conditioning of liability, rights, obligations, and remedies of the parties relating to claims arising from defective products shall be governed exclusively by the terms hereof.
II. This warranty is limited to the original owner of the building (Buyer), is specifically non-assignable, and is non-transferable.
III. Buyer shall exercise diligence in the inspection of materials as received from FCP prior to utilization so as to mitigate the expense involved in repairing, repainting, or replacing nonconforming products.
IV. This warranty applies only to the above-described products of FCP and does not cover accessories, fixtures, insulation, goods, or materials not manufactured but sold by FCP. This warranty shall be valid and apply to FCP's products only if the products are erected and installed strictly in accordance with FCP's engineering plans and specifications; all applicable erection standards and procedures, and current erection manuals. Any modification of, deviation, or variation from the specified materials, products, or specified erection procedures without the prior written consent of an officer of FCP will void this warranty.
V. This warranty is applicable only to product damage or failure caused by "normal atmospheric exposure" which shall not be construed to include the following conditions which are specifically excluded from this warranty:
a. Deterioration caused by marine (salt water) atmospheres or by constant exposure to either salt or fresh water.
b. Corrosion caused by heavy fallout or exposure to corrosive chemicals, ash, or fumes from chemical plants, foundries, plating works, kilns, paper plants, fertilizers, animal waste, or any similar foreign chemical substances.
c. Deterioration caused by corrosive fumes or condensates of harmful substrates generated or released inside the building.
VI. This warranty shall not apply to any structural failure attributable to engineering design caused by incorrect, inadequate, or erroneous design information transmitted to FCP, by or through the owner, contractor or their respective design representative
VII. This warranty specifically excludes the following:
a. Damage caused by workers.
b. Damages caused by acts of God – including, but not limited to, lightning, strong gale, hurricane, tornado, earthquake, fire, or flood.
c. Damages caused by any other cause beyond the control of FCP, including, but not limited to the following examples:
i. If after erection, there are alterations, such as but not limited to, structures, fixtures, or utilities being placed upon or attached to the structure.
ii. If there is any failure by the buyer to use reasonable care in maintenance.
iii. If the buyer fails to comply with every term and/or condition stated in this warranty.
VIII. Claims for any defects or breach of this warranty must be submitted by the owner, or owner's representative, by written notice within the warranty period and within thirty (30) days of the occurrence of a failure or breach of warranty so that FCP has reasonable opportunity to inspect the products. The owner will exercise reasonable diligence in the inspection and maintenance of the products in order to mitigate the expense involved in repairing or replacing the products.
IX. FCP's responsibility and liability pursuant to this warranty are expressly limited to the replacement or repair of the defective materials and workmanship and in no event shall exceed the original price paid for the product claimed to be defective or unsuitable.
X. This warranty will not be effective and binding on FCP until payment in full for the product has been received by FCP.
XI. This warranty may not be modified, amended, or supplemented except by a written agreement signed by an authorized corporate officer of FCP.
CSI Specifications – FCP Modular Mezzanine System
View/Download FCP Modular Mezzanine CSI Specification in PDF or Word Doc
Ready to get started, or simply have questions? Contact us and we'll be glad to help in anyway.
By collaborating with our clients, FCP evaluates the project scope for form, function, safety, environmental impact, and building
code requirements. We'll work with your team to show you ways to reduce labor cost and provide you with a thorough project
proposal.
Licensed, Bonded and Insured Contractor | CA License #847398
Let's Build Something Together!
Ready to start a conversation about your steel fabrication project? Contact
us today and we'll be happy to assist you in turning your big ideas in to
reality.