Mezzanine & Platform Accessories
Industrial Steel Free-Space Mezzanines™ and Support Platform Accessories
FCP Mezzanine & Platform Accessories
Mezzanine, and Support Platform Accessories for any application. FCP provides a complete line of accessories for new and existing project applications. Made with high tensile galvanized steel components, and built to withstand the most rugged industrial usage, our mezzanine and support platform accessories are custom-made to fit exactly where you need them, indoors and out.
Explore FCP Mezzanine & Support Platform Accessories
Since 1982, the FCP brand has continually set the standards for providing the finest US quality manufactured Free-Space Mezzanines™ and Support Platforms accessories. By being an innovator in design, technology, workmanship, execution, and professional support, FCP has built its reputation as America's "Go-To" company for Creative Steel Solutions.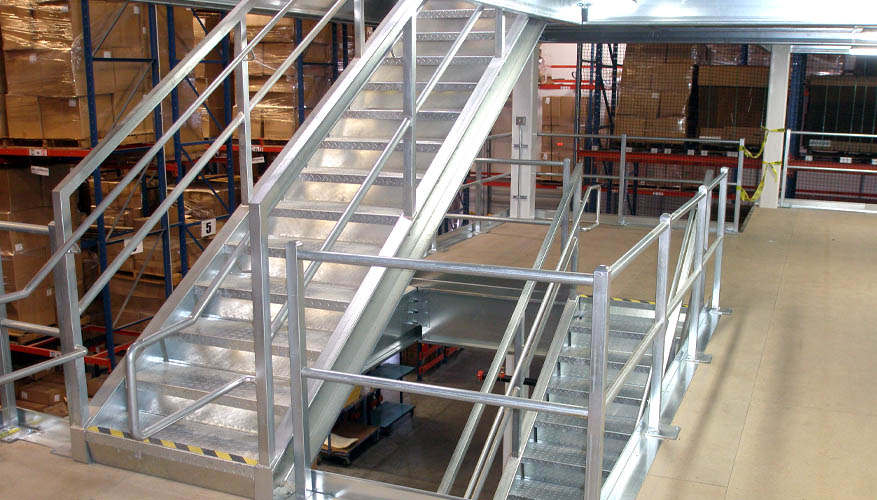 Durability - Built to Last
FCP Mezzanine and Support Platform accessories are engineered to last under all conditions. The superior strength, stability, and tight construction of steel and metal components guarantee they will meet the most demanding requirements for quality and performance. Our Mezzanine Stairs, Landings, and Stair Tower systems are made with high tensile galvanized steel components and built to withstand the most rugged industrial usage. Our durable systems are custom-made to fit exactly where you need them, indoors and out. Excellent for access to platforms and free-standing mezzanines, they are also perfect for elevated in-plant offices, rack & shelving systems, equipment support, and much more.
Our highly trained professional staff is ready to create the right structure, design, and configuration that will perfectly match your requirements. All of our industrial mezzanine stair systems, landings, handrails, and gates are designed to meet the specific code requirements of your application. Our standard 36" wide stair features skid-resistant diamond plate treads with open risers, however, special applications requiring closed risers, wider treads or unusual angles and runs are also available. Stairs may be ordered preassembled or in knocked-down form for field assembly.
All FCP Mezzanine and Support Platform Accessories follow the guidelines of the applicable code agencies ANSI, AISC, ASCE, UBC, CBC, BOCA, SBC, ADA, and OSHA.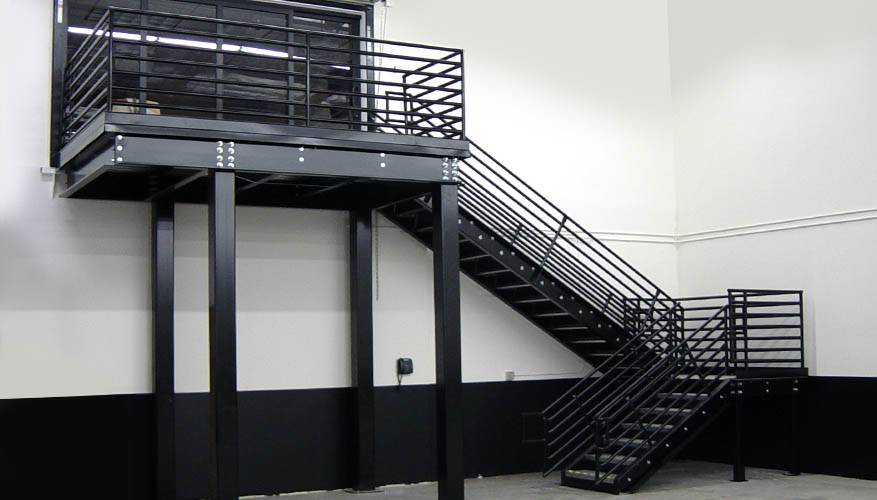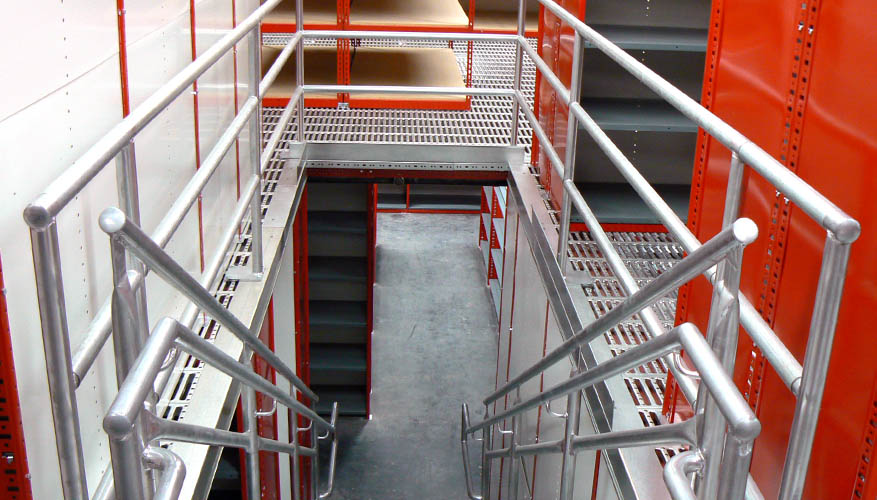 Options...Options...Options
Every mezzanine and support platform designed by FCP is unique due to aesthetic preferences, location, use, size, height and safety requirements. In many cases, our System Designers utilize various components needed to meet specific requirements such as bar grating and steel diamond-plate panels, special floor surfaces, and even custom materials.
Not sure about which Mezzanine or Support Platform Accessories are right for you? Let one of our knowledgeable System Designers guide you through product selection and assist you in designing a system that meets all your requirements.
Complete Mezzanines and Support Platform Solutions
FCP mezzanines and platform systems are an efficient, economical solution for adding additional space without expanding your original building structure or investing in property. We start with your existing operation, and design a platform structure that maximizes the space of your existing building footprint, and meets your functionality needs, as well as all building code requirements.
Free-Space Mezzanines™ For Any Application
Once you witness the amazing transformation of FCP Free-Space Mezzanines™, you can envision your company expanding, growing, and relocating your operation with ease. FCP engineers and personnel offer unequaled customer service presenting you with a variety of options to take advantage of wasted space and unused facilities. The opportunities of our steel mezzanines and platforms are limitless.
Not finding what you're looking for?
We're Here to Help! Call us at 805-684-1117
Industrial Mezzanine & Support Platform Accessories - Proudly Made in USA Since 1982