FCP Foundation Engineering Slab Engineering
FCP Ensures Foundation Code Compliance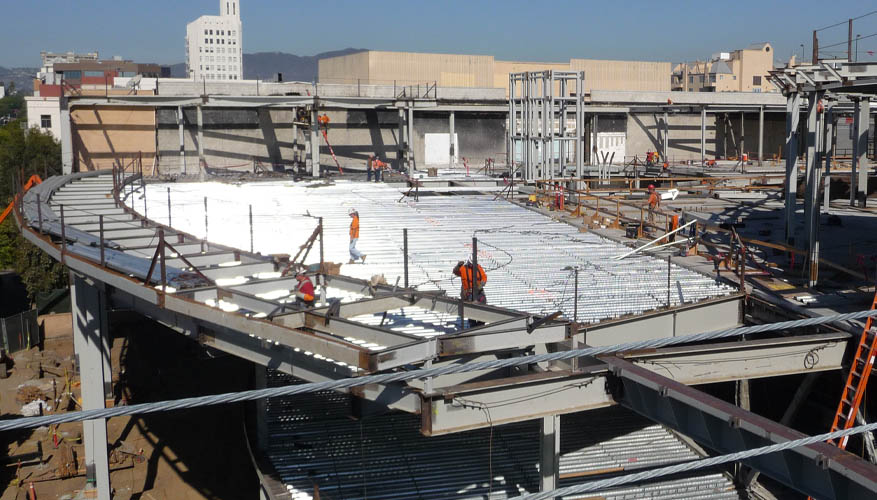 FCP Foundation Engineering, Slab Engineering
Every structure needs the right foundation, and different soil and concrete slab conditions require different solutions to meet building code compliance. Whether it's new construction or installing mezzanines on an existing concrete floor, we at FCP have the experience to engineer the right solution. Because FCP engineers the proper foundation along with your structure, you can be assured they will work together.
Due to our unique rigid-frame design with our exclusive column-to-beam moment connection, there are many applications where an FCP Free-Space Mezzanine™ can be installed directly to the existing concrete floor with a properly-sized base plate. This significantly lowers the cost of these modular offices by eliminating the need to cut, excavate and install concrete footings. In addition, FCP can create second, third or even fourth-level mezzanine floors over your existing operation. From steel mezzanines for trade shows to mezzanines for your existing commercial or industrial space, utilize your unused space the right way with FCP
Ready to get started, or simply have questions? Contact us and we'll be glad to help in anyway.
By collaborating with our clients, FCP evaluates the project scope for form, function, safety, environmental impact, and building
code requirements. We'll work with your team to show you ways to reduce labor cost and provide you with a thorough project
proposal.
Licensed, Bonded and Insured Contractor | CA License #847398
Let's Build Something Together!
Ready to start a conversation about your steel fabrication project? Contact
us today and we'll be happy to assist you in turning your big ideas in to
reality.
FCP – America's Best Built Architectural Steel Structures.